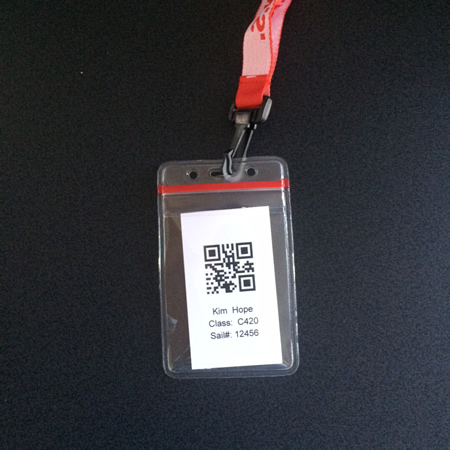 Entrant QR Check-In System
-- Every junior event now includes an
automated QR entrant check-in system. This system generates a unique QR code for each registrant which can be printed on standard card stock and either laminated or enclosed in zip lock badge holder.
For each event you have the option to attach the tag to the entrant, their boat, and or their dolly. The tags can be attached either by zip tie or lanyard to the entrants life jacket of PFD, or by zip tie to Boat or dolly if desired.
Once attached, the tags are scanned by a smart phone or tablet
using a free QR Check-in App from the iTunes or Google Play store. The entrant is checked when the check into the event, and then when they leave or return to the dock each day



As they are scanned the entrant's status will change from "Checked In" to "On The Water" to "Off The Water" . And there is a built in buffer to keep and entrant from being scanned twice and accidentally changing their status.